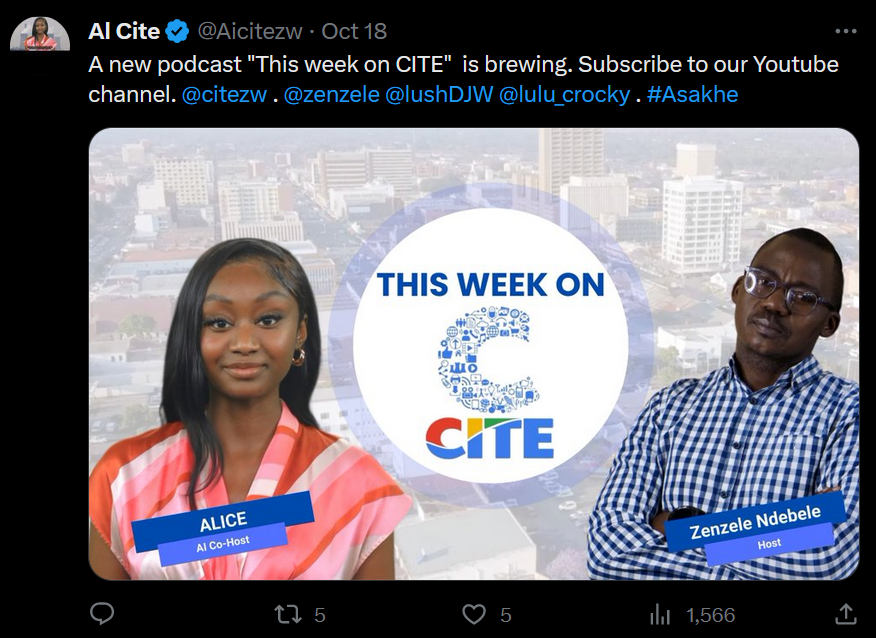 Centre for Innovation & Technology (CITE)
How CITE's Zimbabwean election reporting gained the trust of local audiences
"Journalism is my life, my religion. It's the commitment to tell the truth. The commitment to speak on behalf of those communities who don't have a voice, who are marginalised, who are scared to face the authorities and tell them what they're doing is wrong."
—Zenzele Ndebele, Director of CITE
The Zimbabwean media landscape is characterised by its polarity. Residents must choose between state-owned media and private media, each presenting only one side of the story, making truth-finding difficult.
In the lead-up to Zimbabwe's 2023 general elections in August, The Centre for Innovation and Technology (CITE) wanted the ordinary citizen to have access to news coverage that included minority and opposition parties, fostered informed debate and empowered residents to cast their votes independently without coercion. Before, during and after the elections, through a deeply digital approach, CITE gave Zimbabweans a front-row seat to the election proceedings, informing them on who they could vote for, what they had promised and the manifestos of the political parties.
Background
CITE's co-founder, Zenzele Ndebele is no stranger to innovation. In the early 2000s, Ndebele would produce cassettes of community radio segments and distribute these along public transport routes. Coined "Taxi Tunes", the cassettes gained widespread popularity and proved that local audiences had a need for media that was generated from within their own communities. The uptake of social media allowed Ndebele and other journalists to diversify their offerings through adopting new technologies and they started having conversations about building a platform to talk about the issues most important to them. CITE was started in 2015 to tell the stories of the Gukurahundi genocide and as their organisation grew it evolved from documentaries to wider news coverage. As a digital-first organisation, CITE uses new technologies to disseminate information on political, economic, and social issues widely while paying particular attention to marginalised communities.
"My interest was in documenting these stories, telling the stories that have never been told and profiling the ZIPRA veterans, the ones who fought the liberation struggle, and asking them their experiences… That's how CITE came into being, as a way of talking about these issues that are not spoken about in the public domain." 
—Zenzele Ndebele, Director of CITE
 Building Trust
The philosophy at CITE is that there is not a day without the news and not an hour without the people. "Without our community, we cannot exist and we cannot do well," emphasises Ndebele. In its short history, CITE has proven itself as a trustworthy online media house by investing in its relationships with communities and telling untold stories. Its journalists utilise WhatsApp groups for tip-offs and follow even the smallest leads, making audiences feel heard in their own right. CITE is seen as a change-maker in that when the media house covers a local issue, that issue is then addressed by the government. The support received by CITE from its communities in return is significant. When their journalists get arrested in the line of duty, citizens come to their defence, both online and at the police stations and courts.
CITE's coverage of the 2023 general elections built on this history of trust. Through Facebook, Twitter, YouTube, TikTok, Instagram and WhatsApp, CITE shared election updates, live streamed events, conducted polls and surveys, encouraged user-generated content and responded to comments and questions in real-time, involving its audience in the entire process.
Opportunities
CITE recognised that to deliver on their vision of balanced media coverage, they would need to do things differently. For example, the nomination court is not traditionally covered extensively by the media who only report the outcome and not the proceedings. CITE petitioned the court to cover the nomination court proceedings and the judge ruled that they may livestream the ruling, but not the proceedings. CITE argued that this would not be enough coverage as the proceedings led to the ruling and it was then allowed the concession of having journalists in the room during the proceedings who could live Tweet. CITE staked out the nomination court and produced live coverage of the day until the very last activities at 2 AM the next morning. CITE's live coverage of the proceedings—on Twitter, Facebook, WhatsApp and their website—gained huge traction online, no small feat for a multi-day court case with complex legal arguments and proceedings. Its online content sparked debate among citizens and politicians alike. The court made continual reference to CITE's coverage and other journalists rushed to join the event. CITE's reporting on parties missing their deadlines to submit nominations was used by parliament members seeking to disqualify late nominations and solidified their position as a media house willing to go the distance to deliver detailed, live news coverage to Zimbabweans. In other words, show "CITE was in the thick of things," explained Ndebele.
To reduce the pressure on their team of journalists, CITE invented Alice, an AI presenter. Thanks to their experimentation with digital advancements their team was able to report on more issues and complement CITE's existing strategies without adding to their team's workload.
CITE's relationship with the South African Media Innovation Program (SAMIP) has also been hugely beneficial, enabling the media house to provide more training opportunities and capacity-building within their organisation while connecting CITE to SAMIP's network of media industry professionals and organisations. SAMIP provided critical guidance on how to generate income from CITE's activities and allow the media house to become sustainable without donor funding. Ndebele also credits CITE's widely popular daily newsletter Election Buzz, which garnered over 1000 subscriptions on WhatsApp and online, to its collaboration with SAMIP.
Challenges
"During the elections, we decided that we had no horse in the race. We were going to be fair, we're going to be objective, we're going to be balanced, we're going to be factual. So, we were covering all the political parties the same way. We didn't favour anyone. If ZANU PF did anything wrong, we reported it. When the opposition did something wrong, we reported it."
—Zenzele Ndebele, Director of CITE
 CITE faced considerable backlash for its no-holds-barred reporting and was often accused of having ulterior motives or working for political parties. However, as its election coverage continued and showed that it reported on all parties without favouritism, its journalism was applauded for its comprehensiveness.
Alice, CITE's AI presenter, was limited by her inherently Western bias. Unable to pronounce local names or places, she was often criticised for her speech. However, currently, no other voice options exist and Alice was still able to relieve the team of many tasks. Alice was also critiqued for her "lack of human touch", but although Alice always explained she was AI, some viewers asked her out on dates. CITE is keenly waiting for AI to develop more strongly in Africa, hoping that this will allow journalists to use AI presenters who can speak local languages.
To extend their reach into more communities and issues, CITE needed a bigger team. However, this meant training young people who often moved on to the next opportunity, losing the skills that had been carefully nurtured. Despite peripheral ebbs and flows of journalists, the core CITE team has remained relatively stable for the last five years. On the flip side of working with a majority of young people, CITE faced no resistance to a profoundly digital approach. As digital natives, its reporters did not need much convincing to experiment with alternative forms of journalism like TwitterSpaces or TikTok content.
Solutions
CITE embarked on a multi-prong digital approach to election coverage, ranging from detailed interviews to overarching analysis. It profiled 49 candidates from political parties in a "Meet Your Candidate" series where Alice would present a 5-minute edited video. CITE also produced 19 videos with Alice for the series "Rate Your Councilors" where residents directly engaged with election issues such as community feedback meetings, accessibility, campaign promises and overall performance. In partnership with the Bulawayo Progressive Residents Association and Habakkuk Trust, CITE conducted 17 election debates in Bulawayo and Gwanda, publishing them online to digital audiences. CITE livestreamed multiple political parties' rallies, making political events more accessible and inclusive. These live streams garnered 368 100 views and reached 579 700 people.
CITE shared current affairs via its daily live show Breakfast Club, producing 31 episodes during July and August. It also provided daily updates via TwitterSpaces, engaging with its audiences and fostering critical debate. Six explainer videos were produced in English with Ndebele subtitles to explain electoral information like the role of councillors, members of parliament and the Zimbabwe Electoral Commission (ZEC), as well as the proportional representation system. CITE's promise tracker kept the public informed of 18 promises made by public officials and councils. It also checked facts of political and electoral disinformation circulating on social media, producing 31 fact-checked stories via its fact-check website and social media channels. Through its network of media literacy trainers, CITE demystified rumours coming from rural communities, collecting 44 rumours during the election period and sending fact-checked reports back to the communities they originated from.
During the July and August election period, CITE published 311 election-related news stories on its website and conducted two election reporting trainings for journalists. 30 journalists from Matabeleland and Bulawayo were trained on mobile journalism during elections such as TikTok election reporting and how to engage a younger audience. 15 of these journalists were part of CITE's network of 35 accredited journalists around Zimbabwe who covered election day. On election day, CITE set up a situation room to rapidly process and verify information, edit videos, watermark content, compress files and post to social media platforms. It also hosted a 24-hour marathon on TwitterSpace, updating and hearing from listeners from across the country on election proceedings, while posting every two hours to Facebook and CITE WhatsApp groups. CITE's interactive election map tracked the progress of various political candidates across parliamentary and presidential levels and was visited over 9000 times in August.
"One of the things about this kind of work is that when you see an opportunity, strike. We think outside the box. We're always looking for smaller opportunities to bring our audience to the front seat of what is happening. So we love to live stream events. We love to live Tweet events because we know that's where we get our audience."
—Zenzele Ndebele, Director of CITE
CITE's agility is a huge contributor to its success. Its digital strategy can be summed up as identifying its audience and giving them what they want. Ndebele says that in his experience being hyperlocal is what works best. "Cover the issues that are dear to their hearts, the issues that they care about, community issues. What troubles them, drives them, inspires them?" CITE's willingness to experiment has also served them well, trying new things and being able to let projects go when they don't work.
Successes
Despite being unable to promote their content on social media adverts (due to platforms prohibiting the promotion of political content), CITE's reporting reached millions of Zimbabweans. During August, CITE's Tweets had six million impressions with their Facebook page reaching over one million users. Its YouTube channel garnered 127 400 views and 3 290 people used CITE's WhatsApp community group to access election news. Its TikTok page primarily served Zimbabwean youth and reached 71 860 people.
With over 50 journalists covering the elections in all 10 provinces of Zimbabwe, CITE was a frontrunner in deploying the highest number of journalists to cover the elections. This wide coverage meant they were able to deliver comprehensive reporting to their audience. Despite bigger media houses having more resources, CITE's relationships with its communities and commitment to digital reporting positioned them as the go-to platform for election coverage.
CITE attributes its consistency and strategic planning to its overall success. Continuous training and growth complemented by thoughtful strategising meant nothing was left to luck.
"If you get news from CITE, you know that you're going to get something that is unique, something that is different… We always give our audience community stories that have not been covered by the mainstream news media. These stories are very powerful because then you get to experience Zimbabwe from a different point of view."
—Zenzele Ndebele, Director of CITE