Viewfinder selected for global investigative journalism network
Journalism start-up Viewfinder was recently welcomed into the Global Investigative Journalism Network (GIJN). They were selected from 46 applicants by the GIJN Board of Directors, expanding the global network to 235 member organisations in 89 countries. GIJN Membership is open to non-profits, NGOs, and educational organizations that actively work in support of investigative reporting and related data journalism.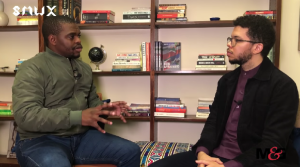 SMWX considers the prospects for hope in a post-ANC future
In a new collaboration with the Mail & Guardian, Dr Sizwe Mpofu-Walsh considers how we as a society have lost our faith in the future and asks what comes after the ANC – you can read the article here. Or watch the SMWX episode featuring political scientist and public commentator, Lukhona Mnguni; the political analysis current affairs channel is finally back to the in-person interview format, with this conversation's central questions reflecting on whether the ANC's grip on power is over? Watch it here
How can we make journalism better for everyone?
The Daily Vox hosted a Youth Month webinar on decolonisation and the future of media. The panel was moderated by The Daily Vox's co-founder Khadija Patel and discussed how the media landscape is viewed by people who work within it as well as how media consumers view it. Youth Day also marked the publication's 8th birthday – congratulations!  Catch the webinar here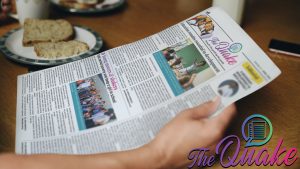 NMT delivers news for the youth by the youth with The Quake
The digital environment has transformed the one-way nature of media consumption which means journalism education is more important than ever in combating false voices and promoting good journalism. This is the theme of a recent edition of The Quake, a Namibia Media Trust youth-focused supplement published fortnightly in The Namibian. You can read The Quake newsletter here. You can also listen to NMT's youth vodcast series It's a Quake on Youtube here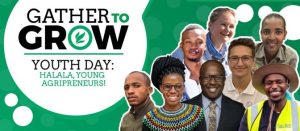 Halala for Mzansi's young farmers
Food for Mzansi's Agricareers roadshow, currently in its third year is making its way around the country with exhibitions in Eastern Cape, Mpumalanga, Northwest, Gauteng and Limpopo still to come. By September an estimated 20 000 learners would have been introduced to the study and career opportunities in agriculture.
For Youth Day Food for Mzanzi celebrated young farm enthusiasts, with their #GatherToGrow twitter spaces featuring scientists, agripreneurs and young farmers talking about why they love what they do and how they are changing the way we see farming. You can listen here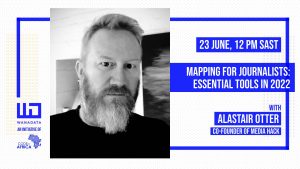 Skills training: Mapping for Journalists
If you are keen to learn the fundamentals of mapping and how to make appealing and informative maps to support your journalism, you can register for the June #WanaData meet-up with Media Hack co-founder Alastair Otter outlining the essential tools for 2022. It is taking place on 23 June at 1pm SAST and you can register here