The trick to monetising newsletters and podcasts is to find creative ways to leverage your engaged audience to meet your client's brand objectives.
"Remember, commercial clients are not buying your journalism, they are paying for access to the audience you have built," said Kathryn Kotze, Operations Manager at Daily Maverick, contributing on a recent panel on monetising newsletters and podcasts.
Kotze and her colleague, John Stupart, editor of Daily Maverick's First Thing, officially the World's Best Newsletter, have conducted newsletter workshops in Abuja, Addis Ababa and Prague and soon in Stellenbosch, giving advice and guidance for publishers on planning, starting and growing newsletters.
Newsletters are a major engagement tool for the South African digital publication, with Daily Maverick delivering over 20 million emails a month across up to 20 separate newsletters.
According to Kotze, newsletters offer an incredibly versatile platform to meet clients' needs and although 90% of monetisation might be through traditional banner display advertising, there are multiple opportunities to creatively meet your clients' brand objectives.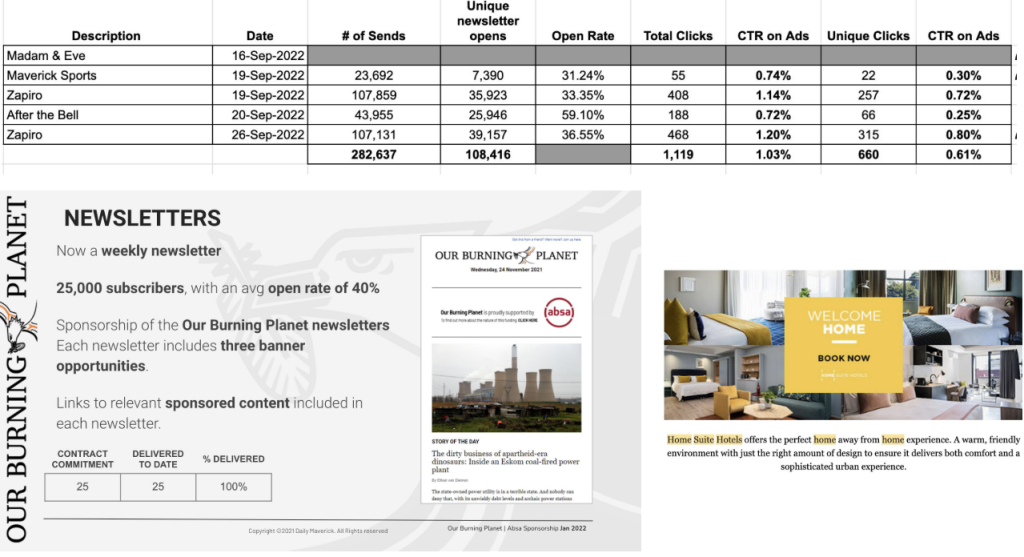 For a sponsored 'newsletter takeover' where all three advertising banners are sold as a package it is possible to curate what your readers see with each advert offering a nuanced touchpoint to take readers on a journey.
Daily Maverick takes a very scientific approach to pricing which is based strictly on newsletter open rates – your reach – as that is what clients are paying for. Monitoring metrics can reveal what adds value for clients, for instance, it was discovered that including a blurb under a banner ad showed a consistently 30% higher click through rate than an image alone.
According to Stupart, the starting point for launching a newsletter is to figure out what your publishing objectives are, is it to drive traffic, increase engagement or boost advertising? Setting realistic goals and knowing your "why?" will help you measure your progress. You also need to be clear on what your readers' needs are and how your newsletter serves your audience.
"Excellent content is the best driver of subscribers and revenue generation. Otherwise, your newsletter will fail or dwell in mediocrity."
John offered some practical tips for building a loyal audience including using great headlines and engagement hooks and sections like quote of the day, daily fact or picture of the day – which you encourage your readers to submit.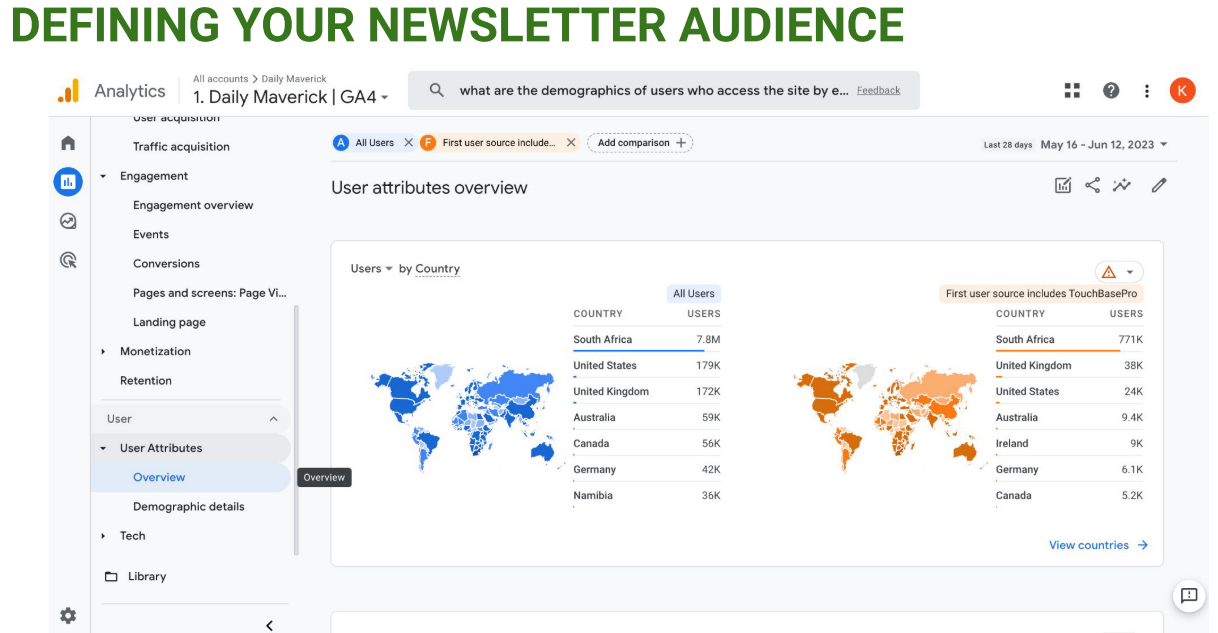 Here are some of the other key tips on how to build audiences and effectively monetise your newsletters:
Your focus – and selling point – should be the engagement. People who are regularly opening your newsletter – the open rate – are paying attention; it is quality engagement that is being sold.
Use every platform to drive engagement. If you have content you can leverage on a different platform, do it, for example, turn recordings from an event into a podcast
For audience growth, use all social networks at your disposal and pay for marketing and to boost big stories. If you find a quantifiable value for every subscriber, it can tell you how much you can spend to get your next subscriber.
Sponsored content is not editorial content – this needs to be clearly marked or you risk breaking trust with your readers.
Trade exchanges can be useful, but while long term partnerships are important, this should not be at the expense of hard cash.
Think of where you can add sweeteners – if a client sponsors an event, give them sponsorship of the resulting podcast
You don't need a lot of equipment or people to produce a newsletter, it can be done with a small team and a phone. Before expanding, always interrogate how this will serve your objectives. Always weigh up the amount of resources required against what you can earn from it
SAMIP and Daily Maverick will host a Newsletter Masterclass in Stellenbosch on Tuesday, 11 July.