Less than 1% of global funding goes to women's and feminist organisations in the global south. This figure is mirrored in charitable donations, where less than 2% of individual donations go to organisations supporting women and girls. South Africa has over 200,000 registered Non-Profit Organisations (NPOs), which must all compete for the same small pool of funds available in the country. Alternatively, NPOs can seek aid from abroad, which often comes with Eurocentric compliance procedures.
What then, can small feminist non-profit organisations do to survive in Southern Africa? Quote This Woman+ (QW+) an intersectional feminist media non-profit decided to take funding matters into their own hands. Partnering with The Association of Independent Publishers (AIP), a membership-based NPO that supports community publishers in South Africa, QW+ launched Look, Listen, Local: The Innovation Fund.
Key takeaways:
Collaborate with like-minded organisations
Develop alternatives to funding pools that are out of reach
Channel resources into ideas with long-term sustainability
Position your network as a marketable asset
"Donor backing is drying up and out of necessity, we have to find alternate sources of funding. For small teams to waste time on fruitless grant applications becomes a fool's game. We're media disruptors: it doesn't make sense to wait on forces beyond our control.  Look, Listen, Local as an Innovation Fund asks "What other options exist?" This is the same mindset that is at the core of how we shake up gender inequality in the media. When we take the initiative with funding, we gain more control of our future. This makes the future of the media at large more secure." 
—Kathleen Magrobi, Director of QW+
Both organisations recognised their mutual need for core funding and collaborative synergies around achieving diversity in the media. Neither could rely on the precarious nature of grant applications, crowdfunding or corporate donors to sustain their futures and knew they needed to come up with a long-term strategy that would allow them to continue their vital work.
With an emphasis on the urgency of innovation, both in the South African media and the nonprofit space, QW+ and AIP launched Look, Listen, Local: The Innovation Fund to strengthen and democratise news from the grassroots up.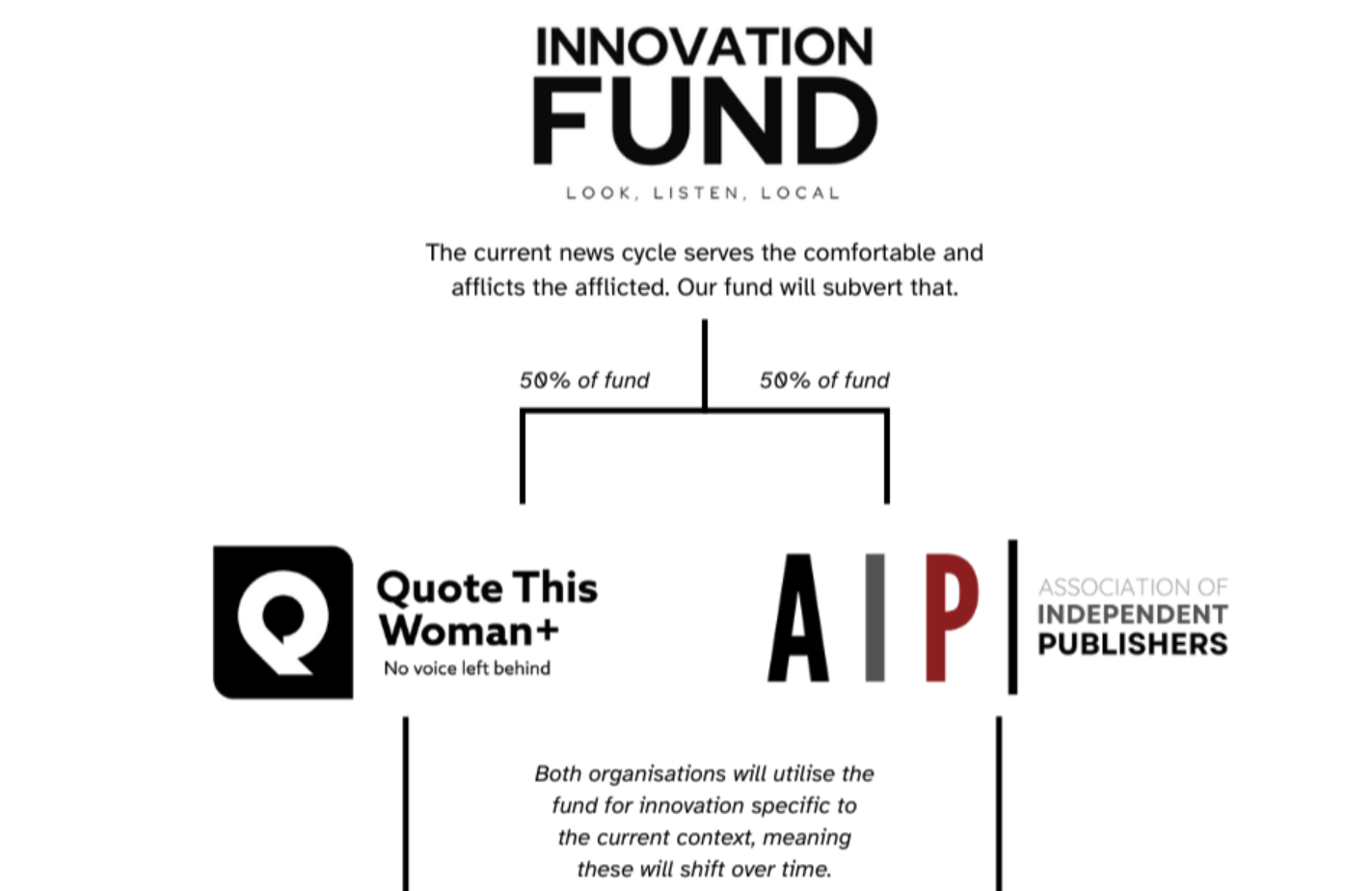 Challenges: maximising limited resources
 Both NPOs operate on skeleton staff, with a handful of full-time and part-time staff at QW+ complemented by volunteers and a part-time director and intern at AIP. With their day-to-day operations being a priority, they could only carve out limited time to dedicate to the Innovation Fund. Additionally, charitable fundraising is somewhat saturated in South Africa, with traditional models of corporates buying tables at fundraising events being a well-worn tactic. So, the team behind Look, Listen, Local knew that they had to conceptualise a fresh take to get potential donors' attention. The old adage that you have to spend money to make money also applied—hosting an event for 100 people required a significant initial monetary investment to make it a reality.
Opportunities: create urgency, ask for different types of support and leverage your network
QW+ and AIP identified the upcoming 2024 elections as a pressure point they could create urgency around. This way, funders would be more encouraged to donate early on, instead of waiting for the fund to pick up momentum and contribute further down the line. The Innovation Fund was also intended to support both organisations in achieving their mandates in supporting community media and diverse representation in the media, so they also approached sponsors who could offer in-kind contributions, knowing that operational support could provide as much help as cash in the bank.
Both QW+ and AIP have incredibly strong relationships with journalists and editors, with thousands of media professionals accessing QW+'s database of women+ experts to call on for a quote on the news of the day and almost 200 community publisher AIP members who boast a monthly readership of almost 8 million people. They wanted to use the event to celebrate the media professionals they work with as well as give them the opportunity to get the ears and quotes of industry influencers. This had the double benefit of attracting sponsors to the event who would also benefit from a stronger relationship with the media.
"Innovation can be a broad theme to fundraise around, yet we knew that Look, Listen, Local had many unique benefits to offer potential donors. So, each potential funder was approached strategically, highlighting how the Innovation Fund could strengthen their community media marketing channels, enhance their reputation for supporting women+ initiatives and support open democracy in South Africa. We needed donors to know how this particular project was different and worth their investment."
—Kate Skinner, Executive Director AIP
Solutions: originality comes from adaptation
To relieve some of the organisational burden of planning the event, QW+ and AIP jointly hired a project manager to manage the Innovation Fund. The team crafted an event strategy to entice sponsors on multiple fronts: journalists would be in attendance to build relationships with the media; an all-star panel of women thought leaders would make up the biggest portion of the program to give guests incisive insights into community media and the diversity of sources leading up to elections; established and up-and-coming women+ experts from QW+'s database were invited to ensure thought-provoking networking and reflect the values of the fund; and funders were encouraged to send women from their organisations, particularly on their succession programs, to "walk the talk" and emphasise their investment in the fund's programming.
The event was curated to portray the Innovation Fund's feminist and community values, as well as be an exciting morning for guests to look forward to. All suppliers were women- and Black-owned businesses and the panel consisted of Verashni Pillay, a media entrepreneur and multi-award-winning editor and journalist, political thought-leader, Mbali Ntuli, Mamokete Lijane, SA's leading finance and economy expert, and Mbali Dhlomo, a veteran community news publisher. Local comedian, Noko Moswete, was brought on board as the MC to provide comic relief and some star power. Vital seed funding was secured from the South Africa Media Innovation Program (SAMIP) and Sanlam, transforming Look, Listen, Local from idea to actuality.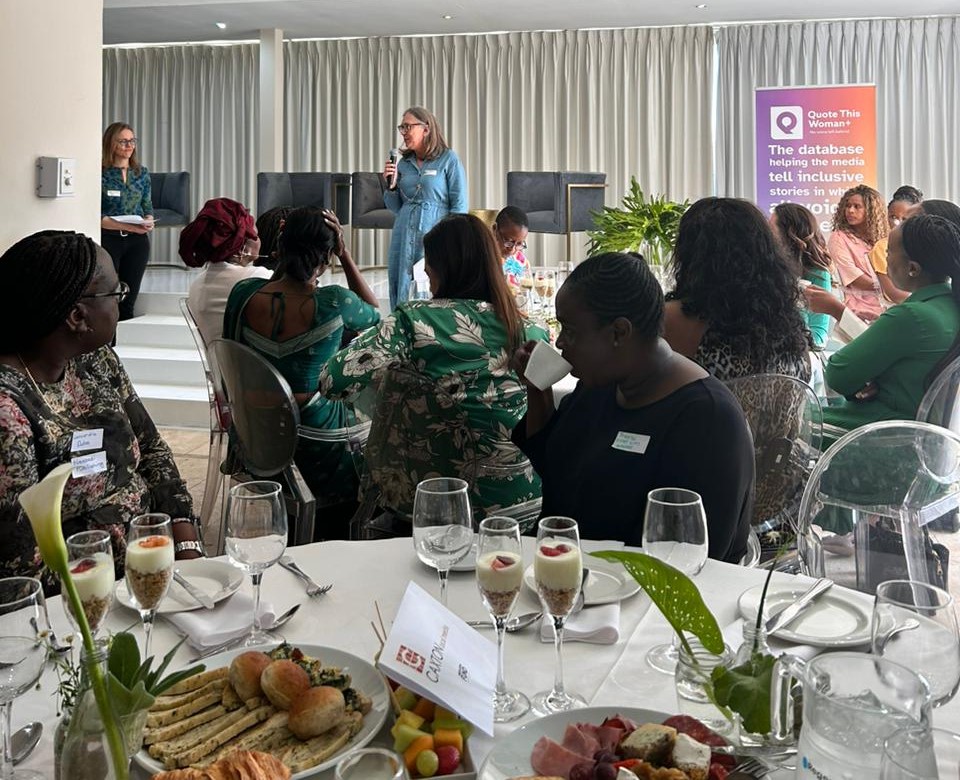 QW+ and AIP embarked on a three-month intensive fundraising drive where they identified corporates, embassies, local businesses and high-net-worth individuals to approach. Sponsors were invited to contribute to the fund on a sliding scale, from buying a Platinum table with all the bells and whistles to buying a single seat. A BackaBuddy crowdfunding page also allowed those who supported the Innovation Fund mission to personally contribute. The Nelson Mandela Foundation were early supporters of the fund and they publicised their endorsement widely, contributing to public trust and goodwill. Investors were also given the option of filling their tables with young student journalists or early-career experts, instead of their own staff, to further enhance the impact and publicity of their donation.
Trade exchanges and tough negotiations allowed Look, Listen, Local to keep their expenses to a minimum and costs were saved everywhere, from hand-written name tags to zero-waste QR-code programs and menus, to recyclable brown paper bags for guest gifts.
"We knew that every cent spent on the breakfast gala was money not going to what we were trying to achieve with the Innovation Fund. The event was whittled down to provide a spectacular experience without a superfluous budget. Choices like choosing a venue that spoke for itself and didn't need extra decor meant that we could dedicate that money instead to increasing the number of community voices on QW+'s database of women+ experts and supporting AIP's members to explore novel forms of journalism like explainer and solutions journalism."
—Kathleen Magrobi, Director of QW+
Successes: sustainable funding futures
The Innovation Fund secured a steady stream of major and minor donations. 1st For Women came on board as the first Platinum sponsor and their support extended to additional trade exchanges with QW+ and AIP as well as their staff helping out on the day to reduce personnel costs. Nedbank and Hollard also supported the fund and were thanked with Platinum tables. AVBOB and Caxton Printers procured Silver tables and the Gauteng City-Region Observatory (GCRO) continued their support of QW+ with a donation to buy a single seat. Workshop17 and the Daily Maverick also supported in-kind, with co-working office space and press coverage respectively.
Community publishers from all over South Africa were in attendance at the launch on 22 September 2023 at Emoyeni in Johannesburg, and many commented on the refreshing focus on community news. Top journalists and editors joined hands to support the Innovation Fund, with representatives from a wide range of media outlets, including The Sowetan, Newzroom Africa, Bhekisisa, Daily Maverick, Sunday Times, Carte Blanche, Forbes Africa, The Conversation Africa, Explain.co.za, and the South African National Editors' Forum (SANEF).
In addition, the fund itself piqued the media's attention. In the run-up to the event, the QW+ director was interviewed on both SAFM and Cape Talk to explain why the need for the fund existed, and why it had been created.
After raising over R800 000 in support, the Innovation Fund breakfast gala is set to be a yearly spring event with the potential to provide sustainable funding for both organisations.
"With the outpouring of support for the Innovation Fund, AIP can start to enable our almost 200 members to go online. The mainstream media in South Africa is predominantly English, but our community media publishes in all 11 official languages. That means millions of South Africans will soon be able to access accurate and incisive reporting on the upcoming elections, and news of the day, in their mother tongue from their mobile devices. That kind of access and representation doesn't have a price tag on it, it's invaluable."
—Kate Skinner, Executive Director AIP
 To support the Innovation Fund, donate to and share the BackaBuddy campaign here.