The simple steps that helped a small team grow its newsletter
Success doesn't have to be a million new subscribers. Sometimes it's just a few thousand.
As a youth media outlet, The Daily Vox's biggest audiences have always been on its social media channels, with an on-again-off-again newsletter reaching to an audience in the low thousands.
But after re-launching its weekly newsletter in 2020, in just a few months The Daily Vox tripled that email audience – not due to any big editorial shift or major news event, but simply by carefully implementing some of the basic 'best practices' of newsletter publishing.
Speaking at a recent SAMIP event, The Daily Vox's Fatima Moosa and Des Brown from email service provider Touchbase Pro shared the strategies that helped them grow, and re-engage, their newsletter audience.
Why email matters
The Reuters Institute's 2020 Digital News Report called it "the resurgence" of email newsletters.
"Once thought of as low-tech and unfashionable," writes Reuter Institute's Nic Newman, newsletters "are proving increasingly valuable to publishers looking to build strong direct relationships with audiences."
This may be especially true for South African publishers: of 40 countries surveyed in the report, South Africans were among the top users of email as a news source, second only to the Belgians.
The Daily Vox relaunched its weekly newsletter during South Africa's first Covid-19 lockdown – initially, to relatively low engagement and little growth. But with a few iterative changes, these metrics started to improve. Within months, the newsletter audience had nearly tripled, from fewer than 2000 subscribers in July 2020 to over 6000 by February 2021, and reader engagement climbed as well.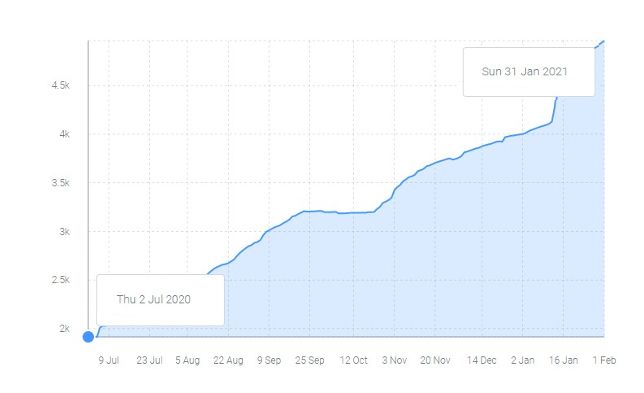 A few thousand new subscribers are no big deal for industry giants, but for many newsletter publishers working from a low base, it's exactly the break they need.
What's noteworthy is that the strategies behind that growth are within reach for almost anyone publishing a newsletter:
1. Pop-up forms work (sometimes)
Readers can only subscribe to a newsletter when they know there is a newsletter. It may sound obvious, but Fatima says the single biggest driver of new subscriptions was a simple pop-up form on the website, to complement its regular static signup page, driving visitors from their social pages to sign up for the newsletter as well. Daily Vox also ran subscription campaigns on social media to tap into their large audiences on Twitter and Facebook.
But pop-ups should be used with caution. Last year, newsletter guru Dan Oshinsky ran a masterclass for SAMIP participants on the many shapes and sizes for newsletter sign-up forms. In 25 Ways to Sign Someone Up For Your Newsletter, Dan says: "Pop-ups are one of the most effective units for capturing email sign-ups. But deployed incorrectly, they can also be one of the most annoying for readers."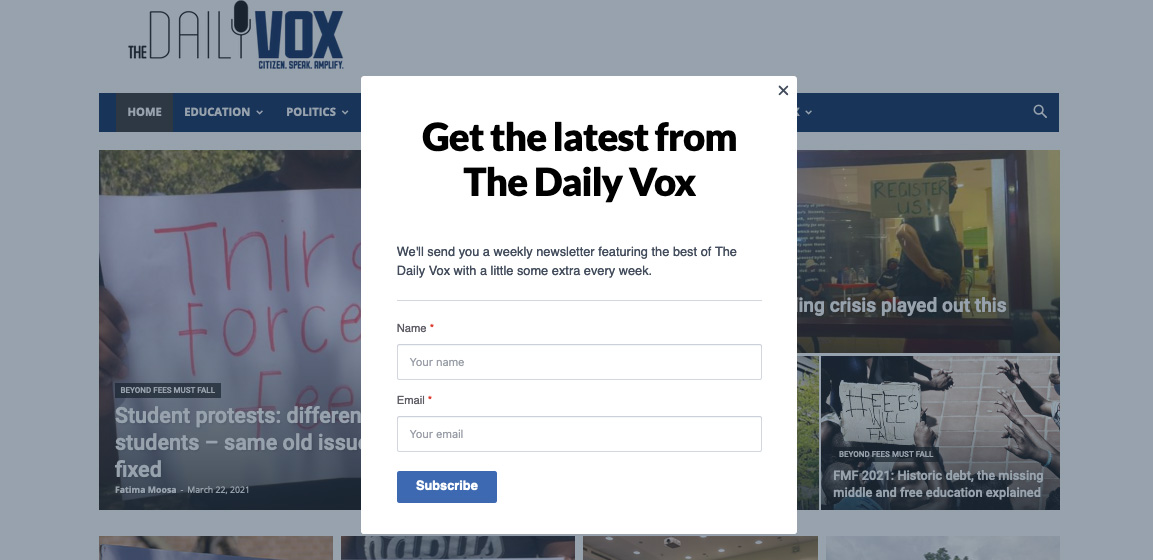 2. Make it personal
The Daily Vox has always thrived by creating strong ties with its youth audience. Fatima drafted the newsletter as a personal reflection on the news of the day, from her to the reader. Where the reader had provided their name, they got a "Dear [Name]" personalised greeting. As the pandemic wore on, Fatima would ask her readers how they were managing, and many replied.
The Daily Vox also added a few automated steps to onboard new readers, including a welcome email for those signing up, and a follow-up message a few days later to invite the reader to specify what kinds of stories they are interested in. This information can be used to segment your audience by interest, so that you can send more targeted content to your audience.
3. Adjust the look and feel
While some newsletter readers may prefer text-first newsletters with a minimalist design, Des Brown, from Touchbase Pro, says The Daily Vox's readers responded to a more visual format.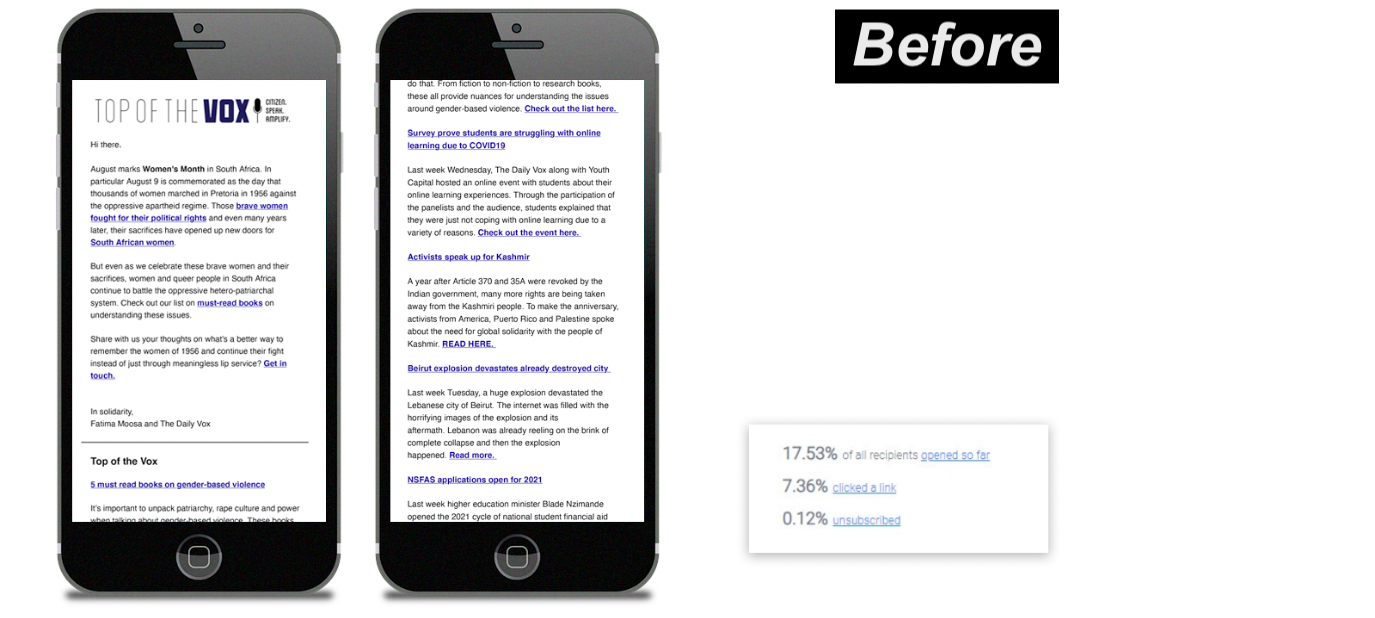 The revamped newsletter format makes use of strong images to break up each section, keeps the copy short and to-the-point: long, unbroken blocks of text can be off-putting to readers. Images link out to the accompanying articles, to make it as easy as possible for the reader to click through. As Des says: "People buy with their eyes."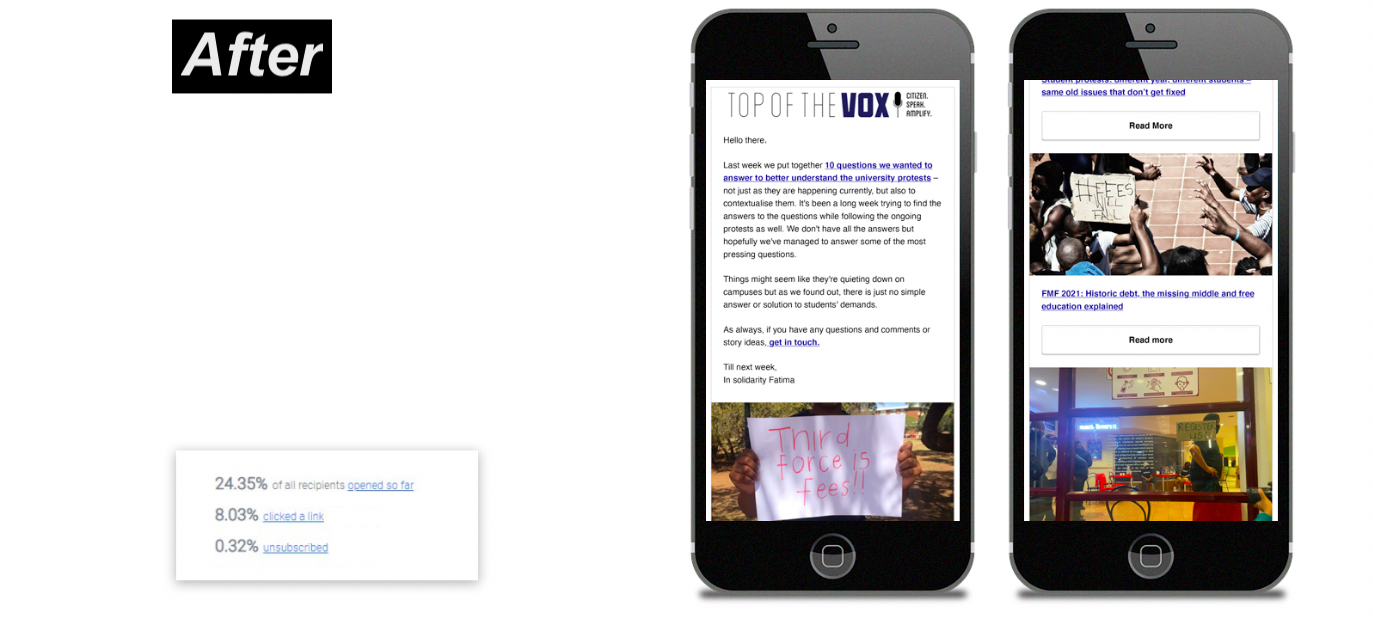 The lesson: Experiment with the layout and design of the newsletter, to test its impact on readers' engagement, and to make sure the look and feel is just right.
4. Re-engage or remove non-openers
"Having a large number of subscribers may look impressive, but there's no point if a number of those are not reading your newsletter," says Des. While trimming down on dormant or disengaged users is a common 'best practice' for newsletter publishers, it's a bit of housekeeping that many newsrooms don't get to.
Working with Touchbase Pro, The Daily Vox scheduled an occasional re-engagement email for those who appeared not to be opening the newsletter, asking if they would like to stay on the mailing list or be removed. Those readers who opt out or who don't respond at all are removed from The Daily Vox's distribution list.
5. Know your analytics
Knowing which analytics matter, and why, is key to growing your newsletter. Des says statistics were behind the gradual improvements and tweaks The Daily Vox made to its newsletter.
For example: very early on, Fatima saw a sharp increase in open rates when readers were addressed by name.
While each newsletter strategy has its own specific metrics for success, the indicators that mattered most to The Daily Vox's newsletter: open rates (one way to measure its progress in engaging new readers and re-engaging old ones), click rates (which gave insight on what kinds of stories mattered to readers, and which tweaks to the style and layout were most effective for readers), and unsubscribe rates (which helped measure whether new subscribers liked the newsletter enough to stay).
6. Content is king queen
Whatever marketing and onboarding steps used to grow a newsletter, ultimately, readers will reward you for quality content. The Daily Vox saw a sharp increase in subscriptions in January 2020, just before the start of the academic year, after publishing a series of stories and explainers for incoming students and school learners. Moosa said this uptick in subscribers tracked an increase in web traffic, which led to more potential subscribers being exposed to the sign-up pop-up on the website.
"It's a combination of the content, and the analytics doing really well," Moosa said, proving that there's no substitute for quality content that is meaningful to your audience.
Some of our favourite newsletter resources:
Speaking of newsletters… sign up for SAMIP's monthly updates on the latest media innovations in our cohort: